As a child, I remember being fascinated with the leaves changing color in the fall. Then, as I grew older and became more intrigued with plants, I seemed to appreciate more and more plants for their autumn beauty. This season, Loma Vista has further opened my eyes to beautiful fall color. I am discovering that there are so many plants out there that don't get much credit during the rest of the year, but in the fall they make up for it with their colorful attributes. Sometimes we get so caught up in the production of our plants that we see right through them and don't stop to admire them. Here are a few plants I have taken extra notice of this year at the container farm.
Diervilla lonicera
, or bush honeysuckle, is great if you are looking to naturalize an area or are in need of a drought-tolerant plant. During the majority of the year, this plant doesn't do much to separate itself from the crowd, but this fall color is a really nice addition to any landscape.
Little bluestem is another one of my favorites. Schizachyrium scoparium

'The Blues' is putting on a show right now at the nursery. The blue-green foliage has changed to fiery red, and the group as a whole makes for a striking sea of autumn color.
Purple wintercreeper, Euonymus fortunei 'Coloratus', is another plant that does very well in the Midwest. While it is a simple green groundcover for most of the year, wintercreeper looks beautiful in the fall with its varying hues of red, green, and purple.
Sunshine Blue®. This plant has bright yellow foliage year-round and is a late summer and fall bloomer. The bees were all over this crop as I stopped to take a picture. Sunshine Blue® is definitely a force to be reckoned with in the landscape.
Proven Winners has a few more introductions that Loma Vista is growing for this upcoming spring.
The Kodiak® Series
Diervilla
is proving to be a vigorous and easy-growing group of plants. Kodiak® Black features dark purple foliage, and Kodiak® Orange shows off its bright orange foliage, especially in spring and fall.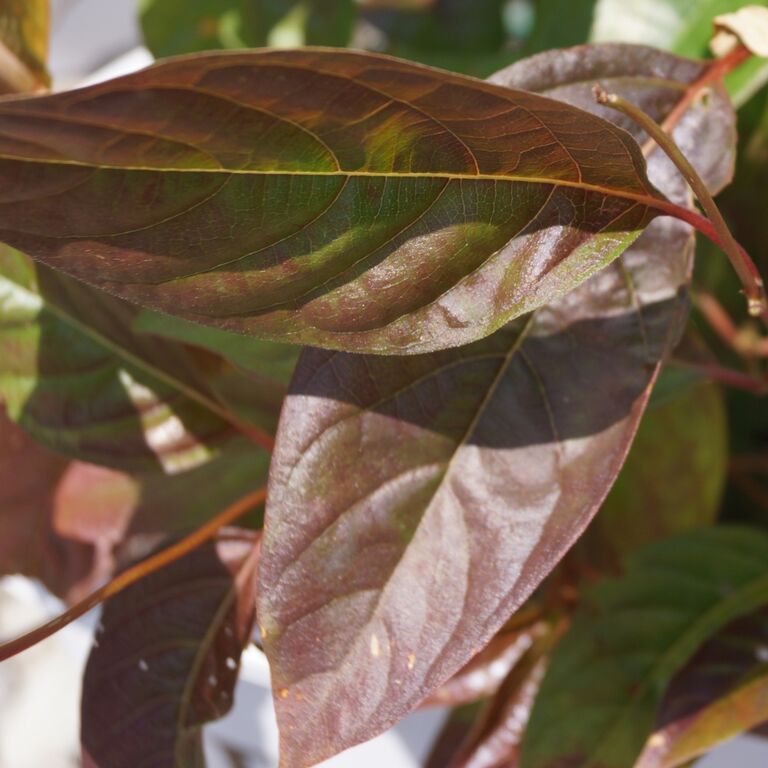 Another new plant to Loma Vista isCephalanthus occidentalis Sugar Shack®, or buttonbush. This native shrub attracts bees, and butterflies with its fragrant white flowers that bloom all summer long.
As nursery and landscape people, we are fortunate to notice more about plants than the average person does. Take advantage of that and be sure to take a moment during your busy fall season to recognize the beauty that this time of year has to offer.