Quite a few new crops are coming on for late summer and fall bookings including shrubs and perennials. Here's a sneak peek at some of our new plants.
The BloomStruck is Endle
ss Summer's new addition of a re-blooming hydrangea. Big white to blue blooms lasting all summer long in acidic soil, pink in neutral to alkaline soil. Red-purple stems, dark green foliage. Zone, 4-9, matures 3-4' x 4-5'.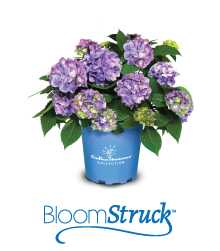 Images courtesy of Endless Summer
Also, new for the fall, is the First Editions' Strawberry Sundae hydrangea. This from the same breeder of the Vanilla Strawberry hydrangea. These blooms start creamy white, turning pink and finishing red. The compact habit of this hydrangea only reaches 4-5' in height, 3-4' width. Zone 4-8. Grows in sun, part shade, shade.
Image courtesy of First Editions
An exciting addition to the ninebark family, we will offer Ball Ornamentals' Physocarpus Burgundy Candy. This ninebark has persistent rich burgundy foliage with a unique compact habit, only reaching 4' in height, 3-4' spread. Zone 3a - 8a.
Image courtesy of Ball Oranmentals
We will also have a few new daylilies added to our fall selection. The Crimson Pirate is a hemerocallis with thin red petals with yellow midribs. This will certainly add an excellent show in the garden.
Image courtesy of The Daylily Society
The Fragrant Returns daylily is already available for shipping. This hemerocallis blooms almost non-stop from mid-summer to fall. Its lemon yellow blossoms are sweetly fragrant, ideal for perennial gardens, containers and small spaces.
Watch for future emails for information on all the new plants for fall.

Jeremy Amos joined Loma Vista's sales team last fall as inside sales representative and assisted with coordinating our spring tree harvest and shipping. Jeremy's role at Loma Vista is expanding and he is now the sales representative for local customers as well as central and eastern Missouri farm direct customers. Jeremy has a horticulture degree from Missouri State University and lives in the KC metro area with his wife and two children.
All of us at Loma Vista are wishing Steve Bridges well with his new venture. After six years of selling for Loma Vista, Steve has accepted a position with a local landscape company. His hard work and sense of humor will be missed!