Last year at the Sterk Homestead we started a 360 Landscape Upgrade. That is the landscape all around our house was to be for the most part tore out and redone. This was a scary thing to think about as I knew my landscape and plants better look good since I work at a nursery; but at the same time I am the CFO of the nursery and probably the least knowledgeable plant person here (don't tell anyone). I am learning slowly but surely. So, for a large overhaul I knew needed a little help from my friends, cue Joe Crocker, Kevin Arnold, Paul Pfeiffer and Winnie Cooper.
Luckily, not only do we have employees that service our customers exceedingly well, they are willing to help out a fellow Loma Vistan (I don't think the fact that paychecks come from my office affected this at all). First, Ben Cecil, our Production Manager came out and helped my wife, Heather and I with a nice full landscape plan. Looking at it was exciting but a little overwhelming as it seemed to be a big job, so we broke it off into phases. Phase one started last year as we tore out and planted the front beds. As you can see in the pictures the plant selections are great for the space and we have kept the plants up nicely as it everything looks happy. If you look very closely you can see our Siberian Husky, Nadia, keeping watch so nothing comes and tramples or eats the plants.
This gave me some confidence so I move onto phase two this year. That meant more help from friends as Don Mann came out and helped me rip out these three giant plants. I don't remember what they were but they were ugly and about 12' by 12'. The bonus of Don coming out is we walked the property and he gave me some tree knowledge and some instruction on keeping up with what we have. After the plants were out, I leveled the dirt and started planting some more. I am not quite done but look forward to a finished product. About half of the area is shown below in progress.
The other part of phase two I learned a valuable lesson in spacing as I got a little overconfident and placed the plants without anyone's help and I thought it looked good at first: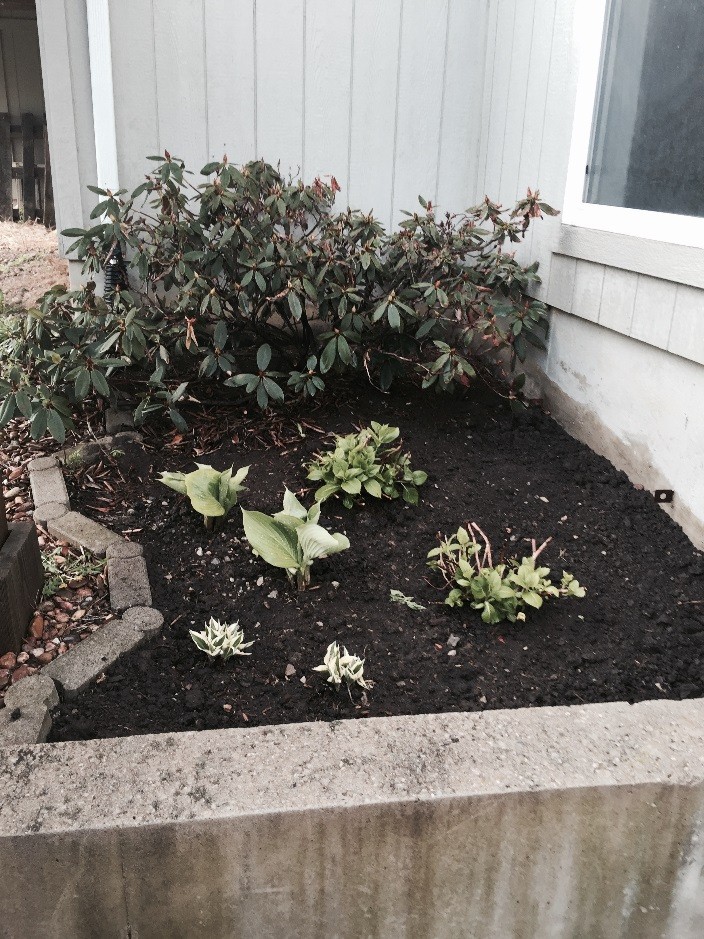 But then things started to grow:
Which reminded me that I am probably better suited for the accounting and finance world. From my view I should get lots of help from my friends, let my wife keep the plants up (as she does a great job at it) and just dig the holes where I am told.